In a competitive digital market, it is more important than ever before to create meaningful interactions with customers. The CX Trends 2022 report reveals that authentic conversations are a significant driver for customers, with over 70% of consumers expecting customer service teams to have access to all their relevant information and over half of all customers open to product recommendations from agents.
The best live chats for small businesses will help you develop meaningful customer engagement, boosting customer loyalty and driving conversions. Over 75% of customers only purchase from sites with live chat support, while 60% of users are more likely to return to a site with live chat. As a small business, live chat software can significantly contribute to growing your customer base and boosting conversions.
This article will look at the eight best live chat for small businesses and which features and benefits a live chat can bring to your organization.
What Is A Live Chat?
A live chat is a tool on your website that connects visitors with a live human agent via a messaging tool (called a 'widget'). Your potential customer can connect with a live agent who can provide solutions and responses to questions about your business, products and services in real-time.
The best live chat for small businesses may also come with a chatbot, which differs from a live chat. A chatbot is an AI-driven service that can respond to set questions about your business, products, or services. Chatbots can also help triage incoming queries before they go to live chat, like gathering information about a customer query or providing responses to FAQs.
What Are The Benefits Of A Live Chat?
There are many benefits of using live chat software for small businesses. Just some of the many benefits include:
A live chat increases conversions - live chats increase conversions by helping customers answer questions about a particular purchase and reducing the risk of cart abandonment.
Live chat software increases customer loyalty - customers will benefit from a personalized experience that can help them connect to your brand.
Live chat helps cut down wait times - waiting for an email or phone response can take hours or days, whereas live chat support can help provide answers in real-time.
The best live chats increase customer retention - live chats can help you gather real-time data on customer preferences, helping you deliver better customer service that increases retention.
Live chat can help increase agent productivity - live chats can help customer support agents better manage their time and interactions with customers.
Live support software helps you optimize your product pages - live chat solutions can help you gather information on FAQs, helping you optimize what you put on your product pages.
Live chat can speed up a customer purchase - live chat support helps to remove blockers to customer purchasing, making the customer's journey through your product pages more efficient.
Live support can help cut back on repeat tasks - live chats can help reduce repeat automated tasks like sending emails or responding to the same questions repeatedly.
What Are The Key Features Of The Best Live Chat For Small Businesses?
The best live chats for small businesses should have integrations and functionality that help to automate repeated tasks, align your agents with your customers, and enhance the customer experience. Some of the critical features of live chat apps include:
Chatbot Support
Live chat support is the perfect way to reach customers online, but smaller businesses can often only support live chat during working hours. AI chatbots can provide natural responses to questions 24/7.
Chatbots can be pointed to materials from customer knowledge bases and be ready to use straight out of the box. Statistics suggest that chatbots can handle as much as 70% of customer interactions, allowing your agents to provide top-tier customer service to people who need live support.
Shared Mailbox
A shared mailbox can allow your agents to manage customer responses in a consistent and streamlined way. Create a seamless customer experience with canned responses, and segment your customer experiences to see where users are on their purchasing journey. Manage user locations and language preferences to get a critical insight into your customer demographics.
CRM Integration
CRM integrations allow you to gather data from your customers right from your live chat. Save time on manual tasks like data entry and build up an accurate picture of your current customer base. CRM integrations with live chat allow you to give every customer a personalized experience.
Multilingual Capabilities
Multilingual chats are ideal for a small business with an international client base. Gain support in over 30+ languages, from Portuguese to Polish, with the best live chat for small businesses. Live chat integrations can help you translate responses in real-time.
Self-Service Capabilities
60% of users prefer using a self-service channel before talking to a live agent. Give your customers what they need with a FAQ knowledge hub, accessible no matter where they are on your website. Businesses can point chatbots at their knowledge hub to respond naturally to frequently asked questions.
Automated Prompt Triggers
Automated responses can provide dedicated prompt triggers designed to reach your potential customers wherever they are on their browsing journey. Entice visitors to stay on your site with powerful interactions when they click away from your pages, tailored messaging when they spend a certain amount of time on a page, and automated responses that can help engage customers before they even need help from a live agent.
8 Best Live Chat For Small Businesses
Now you know which features make the best live chat for small businesses, it's time to explore the eight best tools on the market for your organization. Read on to find our top eight best live chats for small businesses and the features that make them stand out.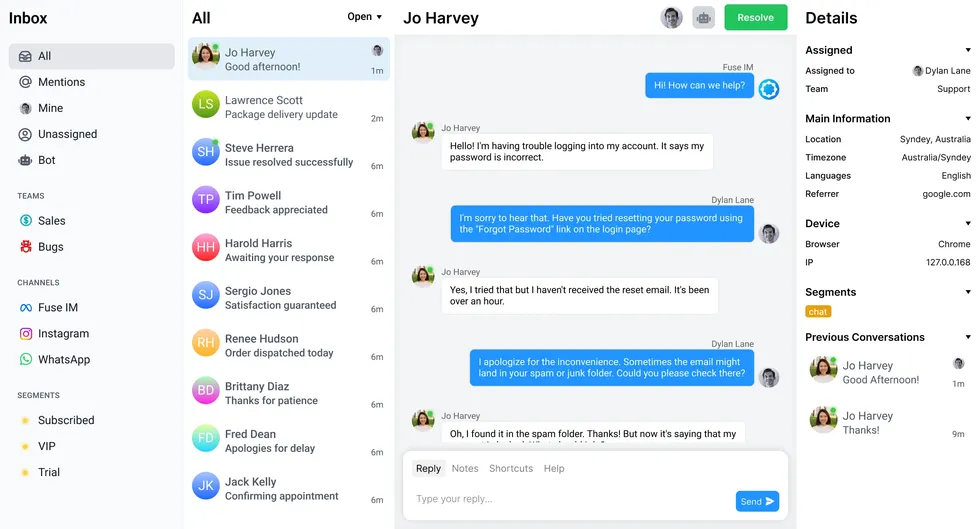 Fuse IM is an innovative live chat with a fully-integrated chatbot and knowledge base. The live chat support comes with an out-of-the-box AI and a fully customizable interface, so that you can adjust the live chat app so it integrates into your branding seamlessly.
The intuitive live chat software is novice-friendly, meaning the code-free app can be easily installed and integrated into your site without support. The chatbot is easy to toggle on or off outside working hours and is trained to provide automated responses straight from your knowledge base.
Fuse IM is a highly transparent business that provides dedicated status pages on responses and downtime, as well as a dedicated support team to assist customers with the Fuse IM functionality and set-up.
Key Features
CRM integration
Web and iPhone app
Fully trained AI chatbot
Dedicated knowledge hub
Shared inbox for customer segmentation and personalization
Chat history and transcripts
Canned response creation
Read message indicators
Multilingual responses in 30+ languages
Branding customization
Automated prompt triggers
Flexible business packages
Pricing
Fuse IM offers flexible pricing structures of two, five, and twenty seats for live agents. All packages have unlimited messages and conversation history, and the basic package includes message history for 90 days. If you want to benefit from Fuse IM's extensive automation and chatbot capabilities, choose the Premium package for AI and GPT support and bot responses.
Most importantly, Fuse IM comes with a 14-day free trial so that you can find out whether it works for your business needs. You don't need to input a credit card to access the trial.
Summary
Fuse IM is an easy-to-use and intuitive live chat app ideal for businesses with a small or growing customer service team. The easy-to-use chatbot and automated prompt triggers help to cut back on response times and triage responses from one centralized location.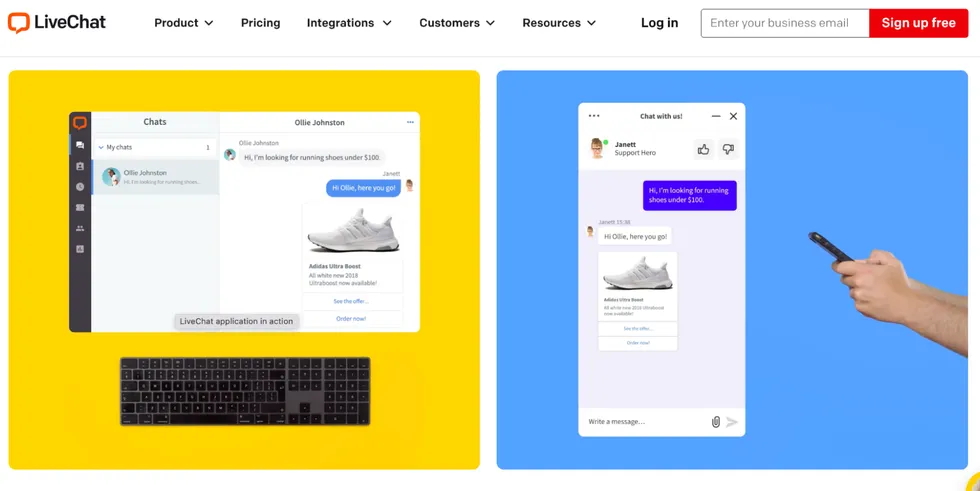 LiveChat is a live support service catered to eCommerce businesses like Shopify and other integrations. It's great for slightly larger companies looking for metrics on agent performance or trying to reach customers across multiple channels.
LiveChat is great for eCommerce businesses using Shopify as it also integrates with your email marketing and allows you to gather analytics on your visitor engagement and marketing data. It comes with a wealth of training courses and data designed to help skill up larger agent teams using live chat.
Key Features
eCommerce integrations
CRM integrations
Web analytics
Agent performance
Knowledge hub
Live chat Training
Email marketing integration
CMS integration
Pricing
LiveChat pricing is on the higher end of the live chat software spectrum. It provides premium onboarding packages for agent onboarding, training and development. Prices range from $250 for standard set-up up to $20,000 for the full suite of LiveChat digital marketing training and software.
Summary
LiveChat has 200+ integrations and multi-channel capabilities, making it ideal for larger eCommerce businesses investing in digital marketing and live chat training.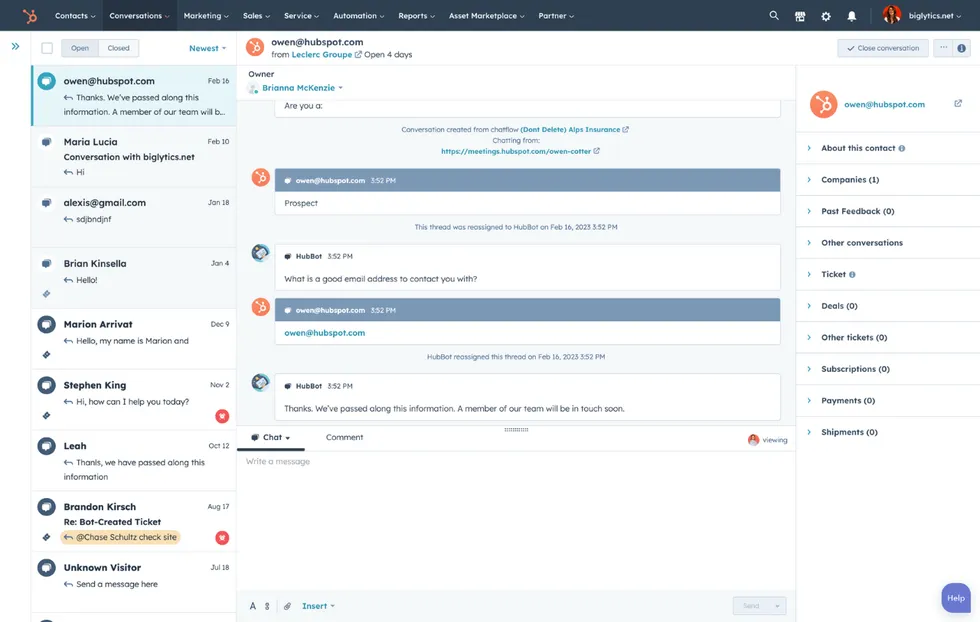 HubSpot has a free live chat tool that allows you to provide live chat support for customers and pass leads and inquiries on to the relevant departments in your business. The live chat app comes with bot integration that users can train to automate critical tasks like meeting bookings or sending targeted prompts to visitors to your site.
Chat conversations are recorded on a dedicated inbox on Hubspot's CRM, allowing you to create support tickets and add internal notes on customer follow-up or preferences. Agents can respond to customers via live chat on Slack or the Hubspot app.
Key Features
Hubspot CRM integration
Slack integration
Chatbot builder
Live chat prompts for out-of-office
Qualify sales leads
Basic automation
Knowledge base integration
Basic customization
Pricing
HubSpot's basic live chat is free, but full customization of your live chat software is only available with the paid packages. Omnichannel and marketing integrations start from $800 a month.
Summary
HubSpot's free CRM is ideal for start-ups or internal teams looking to explore the capabilities of a live chat app. However, to scale up, you would need to invest in the complete HubSpot packages to benefit from more advanced features like automation.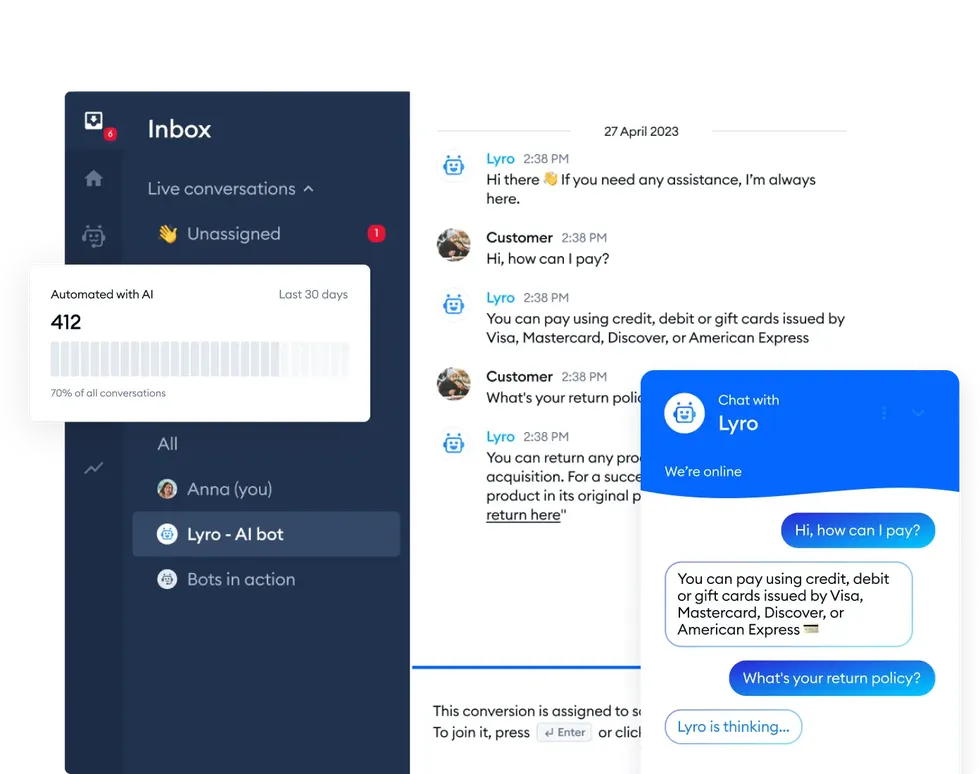 Tidio's live chat app allows you to respond to emails, live chats, Facebook messages, and Instagram DMs from one location. You can send live chat and canned responses or use their AI tool, Lyro AI, to respond to frequently asked questions.
Like LiveChat, Tidio is ideal for small eCommerce businesses, with integrations with Shopify, WooCommerce, WordPress and BigCommerce. Agents can toggle the chat widget on or off for specific web pages to help optimize different stages of the customer journey.
Key Features

Centralized response page
Canned responses
eCommerce integration
Lyro AI support
Last visited page info
Customer contact information
Marketing integrations
Contact list export
Pricing
Tidio has a free starter package which allows up to 50 live chats, but you'll have to invest in their Communicator package to enjoy unlimited live messages. Personalized plans are available from $394 a month.
Summary
Tidio is a handy chat app mainly focused on its AI offering. It's ideal for eCommerce businesses with a much smaller group of agents relying primarily on the chatbot or AI offering to automate conversations.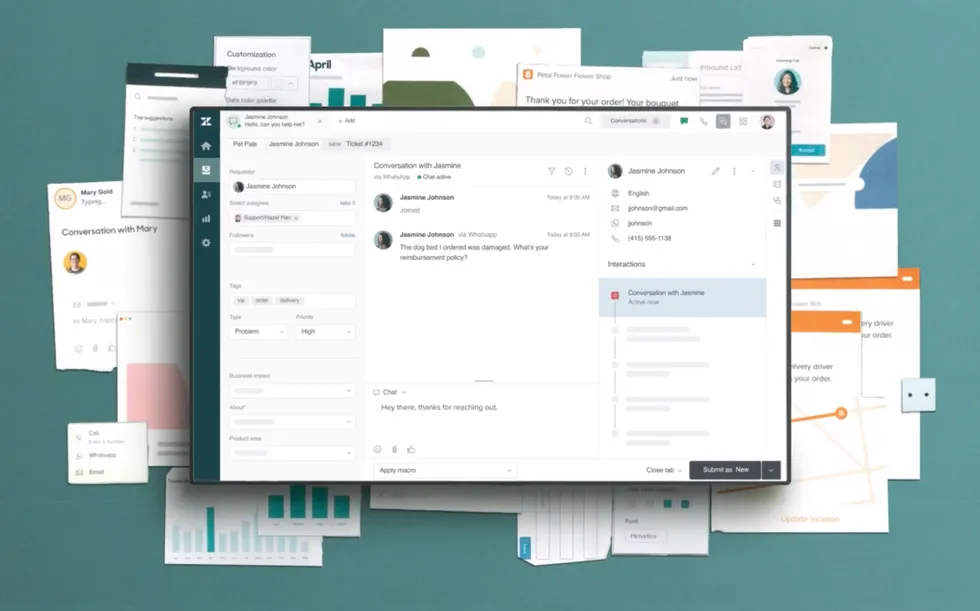 Zendesk has a wide variety of packages from emerging businesses of 1-49 employees through to enterprise businesses of 5000+. It considers a small business as a company with 50-249 employees.
It has an accessible agent panel that lets you easily view critical knowledge about customers, including agent walkthroughs to help them navigate the live chat app. Agents can convert live chats into tickets, and you can capture distinct stages of the user journey for statistics and reports on your support operations.
Zendesk allows the conversation to occur across multiple channels and carries the conversations from channel to channel so that users can respond from their preferred platform.
Key Features
Multichannel communications
Dedicated agent portal
Support operations metrics
Customizable widget
WhatsApp & SMS integration
Agent walkthroughs
Unified departmental view
Chatbot integration
Pricing
Packages are flat-rated by agent or for a set rate for up to five agents yearly. The basic package starts from around $19 per agent per month or $1,140 annually for five agents. The Sell Growth package starts from $55 per agent a month, and the Sell Professional from $115 per agent a month.
Summary
Zendesk is an ideal tool for businesses embarking on digital transformation. The dedicated agent support and unified dashboard help train employees on the portal in a streamlined way.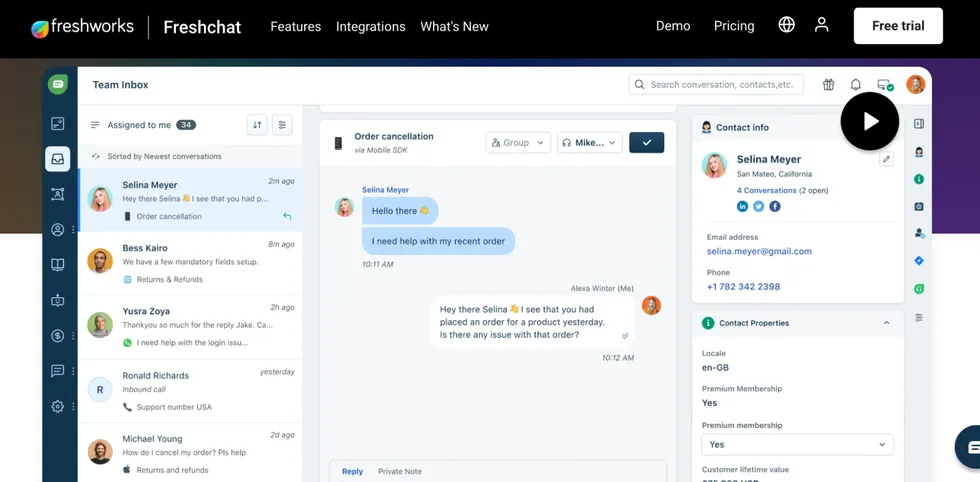 Freshchat comes from Freshworks, a customer service, IT and CRM software provider that also offers a suite of tools for marketing, sales and customer support. The live chat app is designed for sales teams, marketing, support or chatbots to have meaningful conversations with customers.
Freshchat is an ideal tool if you are looking for a live chat service that allows multiple departments outside of customer support to chat with clients. Quickly funnel the conversation through to the relevant department.
Key Features
Multi-department live chat
Multichannel communications
AI-driven bot support
CRM integrations
Customer analytics
AI writing support
Multilingual support
Dedicated agent training
Pricing
Freshchat offers a free tool for up to ten agents with pricing plans starting from $15 agents a month. You'll need to invest in the $39 package to benefit from live chat translations, API integrations, and a team performance report.
Summary
Freshchat is the best live chat for small businesses to interact with customers outside their customer support team. You'll need to invest in the higher-priced plans to benefit from the advanced tools, like live translation or analytics integrations.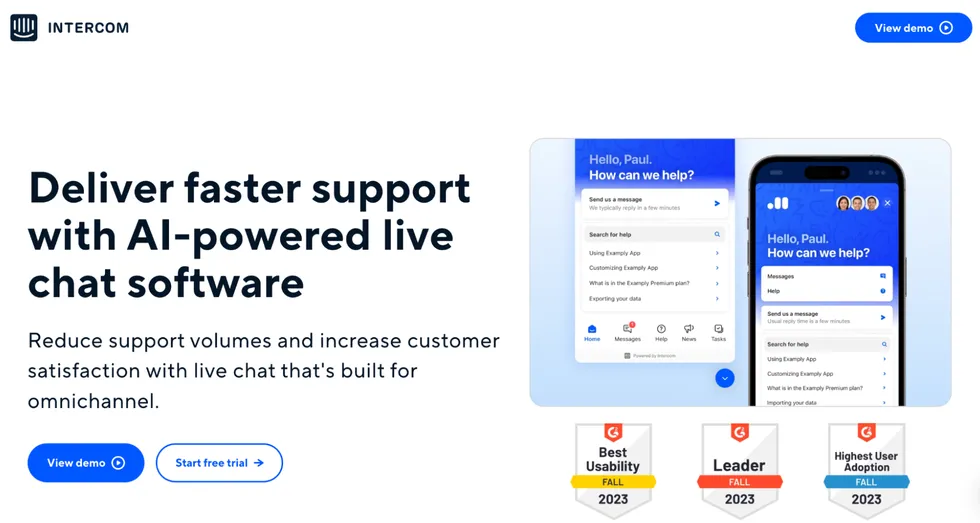 Intercom allows you to hold your multi-channel communications in one app. Intercom comes with chatbot support and Composer AI, a writing tool that can help agents enhance their communications. The messenger is customizable to meet the needs of your internal branding.
Their chatbot is also designed to train itself from your support hub, making it ready to go out of the box. The bot can help with implementing automation and rules for correspondence depending on your business needs.
Key Features
Advanced automation
Chatbot support
Knowledge hub
Writing support
Agent analytics
JIRA & Salesforce integration
Central response portal
In-messaging capabilities
Pricing
Intercom packages start from $74 a month. You can unlock multilingual support, branding and advanced analytics from the Pro package, a customized package with a bespoke quote required.
Summary
Intercom is a versatile live chat app that provides agents and customers with dedicated support. Pricing is higher than other providers, with the automation and ticket integration available on the higher pricing structure.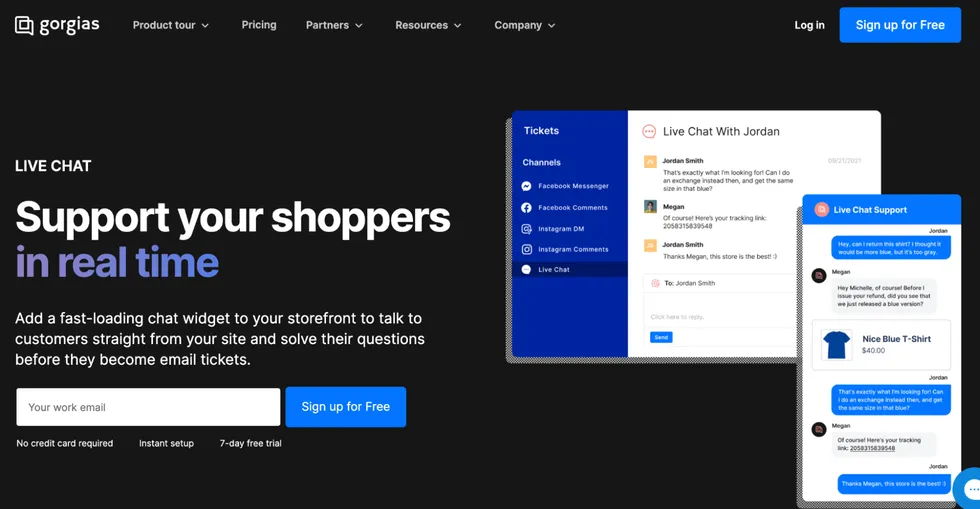 Gorgias is a Shopify live chat integration that allows agents to access customer history from the live chat itself. Agents can easily access all relevant information about customers and the business, including purchase history, refunds, stock information and product pages.
Chat campaigns can be toggled to proactively reach out for support before your customer knows there's a problem. Easy triage between chatbots and live agents helps to cut down on wait times and prepare agents before they respond to the customer.
Key Features
Self-serve order pages
Chat campaigns
Automatic agent assignment
Agent Portal
Widget customization
Agent triage
Multichannel capabilities
Auto-reply capabilities
Pricing
Monthly prices start from $10 for three agents and 50 chats a month and go up to a customized enterprise package at over $900 monthly. Certain features are extra for each package, like automation ($25 a month) or voice add-on (at another $25 a month).
Summary
Gorgias is ideal for Shopify site owners looking to create customized responses to their agents with in-built customer and product data from within the app.
How To Find The Best Live Chat Support For Your Business
When browsing through the best live chat for small businesses, it can be challenging to determine which key features will best benefit your business. Some key factors to consider include:
How many agents do you need? Pricing plans can often be billed by agent 'seats', and it's essential to get a scalable package that can grow as your business does. Consider how many agent 'seats' you need, and give some room for your team to grow.
What integrations do you need? Will you be using your live chat to monitor your email marketing? Do you need to be able to use your app on an eCommerce site? Consider what you need from your tool's integrations.
How many live messages do you have? Some companies bill by messages, so check how many are available with your package. Chatbots that support live chat should have high or unlimited messages, while AI-focused chats tend to cap live chat capabilities for lower packages.
What do my agents need? Many live chat supports have agent walkthroughs, product data and portals that help your agents provide the best possible support. Premium tools may have AI writing assistance to help improve agent language.
Do they have a free trial? The best live chat for small businesses will allow you a free trial. Transparent companies like Fuse.Chat should enable you to enjoy a free trial without inputting payment details.
What do free services really offer? Free live chats might sound incredible but are often limited in features. Check out their pricing packages and see how much it costs to unlock additional features like automation.
Fuse IM: Test The Best Live Chat For Small Businesses
Fuse IM is the best live chat for small businesses. Teams of between two and twenty agents can respond to a shared mailbox and use the dedicated CRM to view and note essential information about each customer. Fuse IM helps to cut response times with dedicated AI support and canned responses, ready to use straight out of the box.
Fuse IM's code-free, easy-to-use interface means that agents of all capabilities can leverage the live support tool to provide outstanding customer service. Our live chat widget is fully customizable to meet the needs of your company branding. Enjoy an easy installation and immediately see the benefits Fuse IM can bring to your customers and your agents.
Do you want to find out more about Fuse IM? Try our credit card-free two-week trial today and start your journey to better customer engagement and increased conversions.